The Dodge Charger Ramps Up for a Run in 2018 | Troiano Chrysler Jeep Dodge of Colchester, Connecticut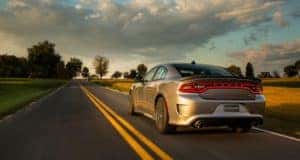 Over the past 50 years, the Dodge Charger has become an American automotive icon. The 2018 Dodge Charger continues this legacy with truly beautiful and powerful new models. Here is a quick overview of what next year's Charger offers:
A Classic Exterior – The 2018 Dodge Charger retains much of the same exterior styling as the 2017 model. Among the changes that have been made are a redesigned exhaust system and 17-inch or 18-inch silver aluminum wheels depending on the model.
A Practical Interior – Without a doubt, the interior of this sedan is geared toward serious drivers and not your aging grandmother. Still, the standard model does come with a load of extras to keep you comfortable and riding in style. These extras include a keyless entry and ignition system, powered driver's seat, a 5-inch touchscreen with upgraded infotainment center, a six-speaker audio system and dual-zone climate control. In addition, the current Charger models offer the latest safety technology, such as available front-collision warning with automatic braking.
Outrageous Performance – The 2018 Dodge Charger line offers four increasingly powerful engine options. The standard engine is a 3.6-liter naturally aspirated V-6 that delivers 292-300 horsepower. One grade up is the 370-horsepower, 5.7-liter naturally aspirated V-8. Next comes the Charger SRT model outfitted with a 6.4-liter naturally aspirated V-8 that generates a whopping 485 horsepower. Finally, for the true "muscle head," there is the powerful 6.2-liter supercharged V-8 that generates an incredible 707 horsepower – almost twice as much as the vaunted Porsche Carrera.
The 2018 Dodge Charger continues the memorable tradition of this powerful muscle car at a starting price of less than $30,000. For more information on any one of these Charger models or to schedule a test drive, please contact us at Troiano Chrysler Jeep Dodge. We can be found online at TroianoChryslerJeepDodge.com or reached directly at 877-381-4525.