Genuine Mopar Parts and Accessories in Colchester
Hours:
Mon - Fri : 8:00 AM - 4:30 PM
Certified Technicians
We Have Early Bird Hours
Free Estimates
Free WiFi
Goodyear Tires
Michelin Tires
We Offer Mopar Accessories
We Offer Mopar Performance Parts
We Offer Rentals
Saturday Service
Shuttle Service Available
Spanish Speaking
Parts Department
Need car or truck parts? Come to the parts department at Troiano Chrysler Dodge Jeep Ram. We have a large selection of parts for all makes and models. So whether you're restoring a vintage find or taking care of repairs or upgrades, we're here to help. Whatever you need, our friendly, knowledgeable staff can help you find it, so that you can take care of all your maintenance and repair needs.

Shop Our Parts Inventory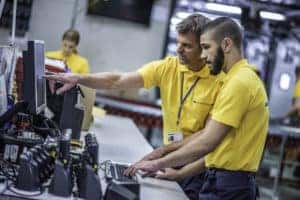 As a trusted Chrysler dealer, we make sure all our customers are completely satisfied from the purchase process to any repairs that arise over the life of their vehicle. That's why we stock genuine Mopar performance parts, which are designed to deliver optimal performance when properly installed in your vehicle and get you back on the road without worry. So whether you prefer to rely on our highly skilled service technicians or complete repairs yourself, you'll have everything needed to get the job done right the first time.
Ordering parts couldn't be easier – simply contact the parts department by phone at 860-537-2331 or complete our online parts order form. We'll determine whether the parts you need are currently in stock, order them if necessary and have them to you as quickly as possible. And, we also offer a selection of high-quality Goodyear and Michelin tires and Mopar accessories, so everything you need for vehicle repairs and upgrades can be found at our easily accessible dealership location.
On-Site Service Center
At Troiano Chrysler Dodge Jeep Ram, our team can install your Mopar parts in our on-site service center. Our certified technicians will handle all routine maintenance, repairs and upgrades using high-quality parts and advanced technology, ensuring that all parts are installed by experts who are highly experienced in working with your specific vehicle. Plus, you'll be able to take advantage of our convenient shuttle service or wait in our comfortable lounge with access to free Wi-Fi.
Find the High-Quality Parts You Require
Whether you need brakes, filters, engine components or suspension parts, stop by Troiano Chrysler Dodge Jeep Ram in Colchester, Connecticut. Our inventory is always stocked with everything required for car maintenance, restoration and performance. To learn more about our parts department or inquire about specific parts, contact our parts department today.